Some of Our Daily Activities Include:
Outdoor Fun With Climbers and Tunnels
Fresh Baked Biscuits
Personalized Play-Time
Supervised Group Play
Oodles of Cuddles
Belly Rubs
Fun with Bubbles
Bedtime Stories
Ball Pits
Daycare
Just like it sounds! Just like a human daycare, drop off your dog in the morning and pick up in the evening. And exactly like a human kid, your dog gets to play, socialize, snack, nap and participate in daily activities then go home tired and ready to relax for the evening.
Doggy daycare has become increasingly popular over the past few years. It is a great alternative to crating during the day and also providing mental stimulation to avoid boredom and destructive behaviors. Some of our guests attend 3-5 days a week while others use it occasionally for lots of reasons; birthday party, special play date, house work or running errands just to name a few!
Our Resort team has activities planned throughout the day that will keep your dog happy and entertained while you are away for the day.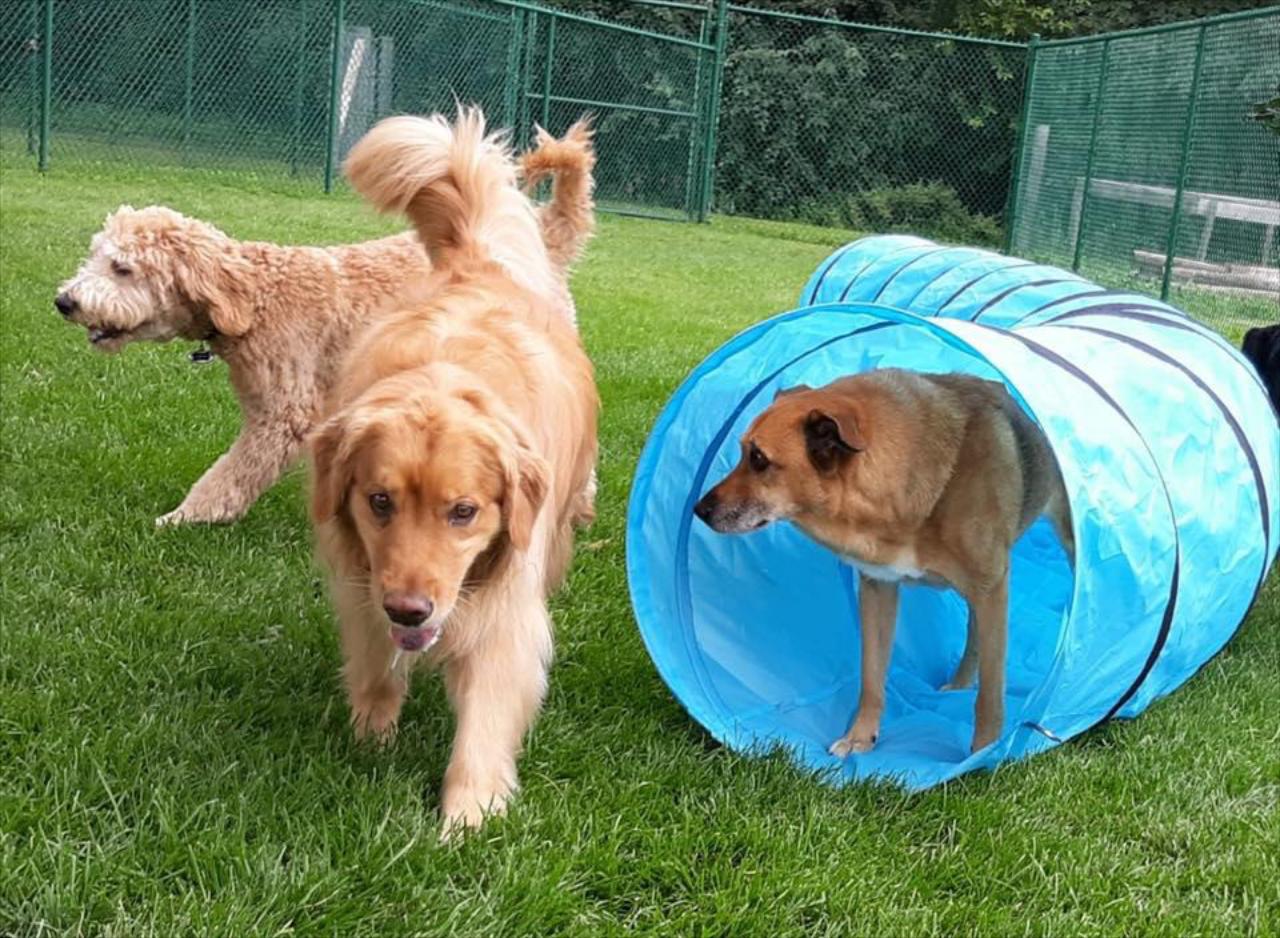 SPA PACKAGES
SDK South Resort offers a variety of spa packages to fit every budget. Exfoliating mud baths are included in this exciting line up of services!
Tub Time Starting at $25 up to $75
Spa Micro-Bubble Bath Starting at $35 up to $85
This is not your typical bath! Deep cleans skin and hair using nothing but micro-bubbles. NO soaps, shampoos or chemicals of any kind are used. Great for pets with allergies or skin sensitivity. *Hypo allergenic
Clean Canine Starting at $40 up to $95
Tub Time
Nail Trim & Feet Cleaning
Ear Cleaning
Blueberry Facial Scrub
Breath Freshening
Bandana/Bow
Feel Good Fido Starting at $50 up to $105
Tub Time using SPA by Tropiclean Shampoo and Coat Conditioner
Dead Sea Mineral Mud Bath ***Exfoliates skin to remove impurities and conditions skin with minerals, hydrates with 100% Aloe Vera
Blueberry Facial Scrub
Paw Pad Massage with Conditioner
Warm Rope Wrap
Perfume/Cologne
Bandana/Bow
Royal Rover Starting at $80 up to $160
Feel Good Fido and Clean Canine Combined
Additional Spa Services
Nail Trim
Mud Bath
Facial and Paw Trim
Hygiene Trim
Ear Clean
Breath Freshening
Nail Painting
CERTIFIED CANINE MASSAGE
SDK Resort South added this service in early 2020 and a Certified Canine Myo-manipulative Functional Therapist. Include a half hour canine massage to your boarding or daycare visit for $37.  Below are just a few of the many reasons why Canine Massage is beneficial. 
Benefits of Canine Massage
Increase oxygen flow to heart and organs
Pain Relief Relaxation
Improve flexibility and range of motion
Improve immune system
Soreness, weakness, muscle spasms
Reduce arthritis and hip dysplasia
Reduce anxiety and eases emotional traumas
Increase energy, concentration and alertness
Improve muscle tone
Reduce age related issues
Make a Reservation
Optional Daily Activities:
Arts and Crafts
Hang your dogs personal art project on your refrigerator for just $10. Guests create their own masterpiece to take home to their parents. A unique project is offered every month.
Splash Pash Add-on
Add our Splash Pass on for a fun time at the Splash Bark
Nature Walk
Our guests could also enjoy a nature walk through acres of shaded woods. We may even stumble across a frog or a bunny along the way or just stop to smell the wild-flowers or watch a passing bird. Add this experience for $12.
Peanut Butter Kong
We have frozen Kongs with Peanut Butter available to add for $5 while guests are chillaxing in their room during rest time.